Post by Ciel Viola on Oct 16, 2014 1:46:53 GMT -6
Ciel Viola
Wandering Vagrant
(And Postman!)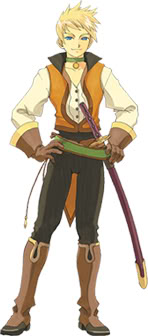 GENERAL INFO
Race: Hylian

Age: 18

Birthday: October 14th

Gender: Male

Sexuality: Polysexual

Alignment: Neutral Good

Alliance: Farore

Occupation: Postman

Homeland: Hyrule

Element Affiliation: Wind
DETAILS
APPEARANCE
His hair is blonde and styled in a messy manner, and he has deep azure eyes that can flare up to become like dazzling blue flames when excited. (Metaphorically of course.) He is considered very attractive, or at least that's what he tells himself, and others when asked. He has a semi-fit body structure, and seems strong when you look at him. He is usually donned in an orange jacket with brown tips and a black collar, with a pendant around his neck and his greenish-grey pants. His gold and brown boots seem to be comfortable and practical, and he seems to weigh a lot of his balance and weight onto his back foot and shoes. He keeps his sword strapped to the side of belt, in a dark red and orange sheath.

PERSONALITY
Ciel is a calm and joyful person to be around, and is a generally happy person. With a natural sense of pride in himself and a determined outlook towards any challenges thrown his way, Ciel is the definition of Optimistic in a lot of ways. With a friendly attitude and a caring and protective nature when it comes to friends and loved ones, he finds it very easy to get along with good, nice or neutral people. Evil people and enemies on the other hand? He might have a little trouble tolerating them, but as long as they aren't trying to kill waves of people, take over the world, do something incredibly evil, or harm someone he cares about at the time they're around each other, Ciel can deal with them. (That's a lot of things evil people tend to do.) He also harbors a hatred towards your typical Blins, since as far as he can tell they were the ones who burnt down his childhood home.

Ciel is polysexual. Polysexuality is the attraction to multiple genders and/or sexes. A polysexual person is one "encompassing or characterized by many different kinds of sexuality." This means that he is sexually attracted to more than just Male and Female, also being sexually attracted to Agender, Transgender, Polygender and Gender Neutral people. So, he is up for literally anything sexually (except inter-species, that'd be weird) and romantically, not particularly caring what you choose to identify as, since he is tolerant and accepting of all genders, races, sexualities and religions, as long as you aren't an evil Blin or a 'bad person'.

HISTORY
Ciel was born in the fields of Hyrule due to an unexpected triggering of labor, raised in the fields of Hyrule as a child, playing with the small animals and in the streams of crystal water, the beams of sunlight and the lush grass, and his journey began in the fields of Hyrule. The day his childhood home caught fire at the hands of Bokoblins was a terrible day, and he was left fleeing and crying like the 11 year old he was. He was scared, traumatized and sick from the smoke. He ran into Castle Town with dirty hands and knees, coughing blood and covered in soot, tears streaming down his face.


With no idea what to do with the child, the townspeople simply called for the guards, assuming that he was a ruffian or a thief trying to fool them. But an elderly man, as one would think, knew better. The elderly man took the boy in, and held him close, hearing his story about what had happened. The young man and the old man eventually became just as close as Ciel had been with his own parents, and Ciel even took up the 'family' business, and became a Postman. But, with Hyrule and the many other countries being the dangerous places they are, he was sent to the Hylian Knights to train, so that he could defend himself from the beasts of the wild while delivering the mail.

It was during his time here that Ciel came into the possession of a rather curious blade. While on a training exercise in the lost woods with the other knights, and he got terribly, terribly lost in the depths of the forest. With no idea of where he was, and his sanity and memory slowly being clouded and drained by the abyssal murkiness of the Lost Woods, he followed the peculiar whispers he heard. Where they were coming from, he had no idea... But he followed the low hum and the whispers through the confusion of the woods.

He followed them all the way to a structure far out in the woods. It was beautiful, the ancient ruins deep in the heart of the forest were so immaculate that you could almost here the chants of the ones who would have inhabited such an incredible place. Then, the weirdest part of his trip in the woods happened. He was sure it was his mind playing tricks on him, but Ciel swore that he could hear, no, feel the sword sunk into the pedestal in the center of the ruins calling him to it, beckoning him to pull it out of the stone it was buried in. With a deep breath, he tugged the sword out on a whim, and complimenting his sudden urge, he rose it above his head, pointing the tip Skyward.

An aura of courage and a feeling of inner strength overwhelmed him, and Ciel felt proud for no particular reason as he held this blade above his head. He examined the blade, and looked over it carefully, taking in every detail, every little glimmering part of the blade. He felt like he was destined to have this sword. He followed the voices of the sword, oddly not being surprised when the low whispers became an almost mechanical voice echoing from the sword, and he was eventually led out of the forest. From that day forth, the blade has never parted from him, bringing it everywhere he goes, even on deliveries.

EXTRAS
SECRETS
-Has Major Zayd blood, which is something he doesn't know.
-His sword can talk.
OOC NAME
HOW DID YOU FIND US?
Was here before, then all my characters were deleted (sadly) which is completely my fault.
FACECLAIM
[b]Tales of the Abyss[/b] - Guy Cecil, [i]Ciel Viola[/i]